Enchanted Rock Blend
$13.95 – $29.95
Free US Standard Shipping on all orders over $50!*
*Excludes Alaska, Hawaii and all US Territories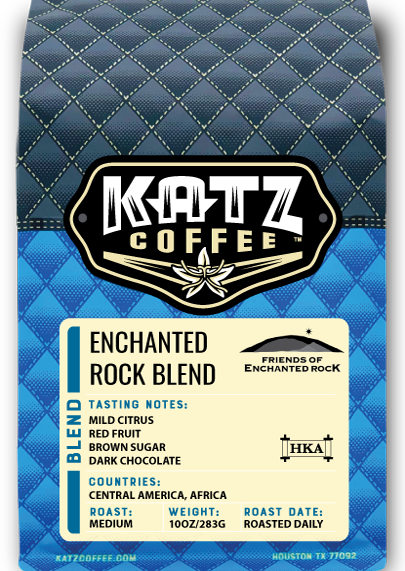 This blend of dark and light beans makes the Enchanted Rock Blend as special as the pink granite rock in Fredericksburg, Texas that it is named after. The roasted spectrum of this coffee brings together richness and silky smoothness. The dark roasted flavors dance on your palate for moments before they are replaced with an ultra-smooth finish.
This blend is from a community partnership between Katz Coffee and Friends of Enchanted Rock as part of our Coffee Cause Program.  A portion of the proceeds from Enchanted Rock coffee is donated as unrestricted funds to Friends of Enchanted Rock, furthering their mission of preserving and improving the Enchanted Rock State Natural Area.
Learn more about Friends of Enchanted Rock and how Katz Coffee helps.
Coffee Details
Recommended Brew Method
French Press, Auto Drip Brew, Cold Brew
Regions
Africa, Central America