Colombia Del Agua Las Guascas
$15.00 – $36.00
Free US Standard Shipping on all orders over $50!*
*Excludes Alaska, Hawaii and all US Territories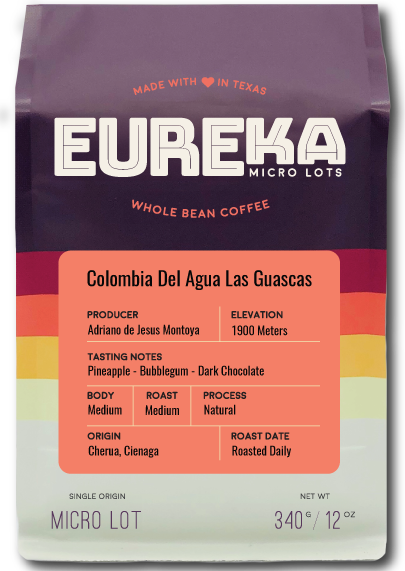 Introducing Colombia Del Agua Las Guascas, a captivating creation by Katz Coffee. Sourced directly from the esteemed producer Adriano de Jesus Montoya, this exceptional coffee embodies the spirit of Colombia's renowned coffee heritage.
Grown at an impressive elevation of 1900 meters above sea level in the enchanting region of Cherua, Cienaga, this coffee benefits from the ideal combination of altitude, climate, and soil, resulting in a truly extraordinary flavor profile.
With tasting notes of vibrant pineapple, delightful bubblegum, and a touch of indulgent dark chocolate, each sip is a delightful journey for your taste buds. The lively acidity of pineapple is beautifully complemented by the sweet nostalgia of bubblegum and the rich complexity of dark chocolate, creating a harmonious symphony of flavors.
Colombia Del Agua Las Guascas boasts a medium body and medium roast, striking the perfect balance between depth and brightness. The natural process adds a distinctive touch, enhancing the inherent qualities of the beans and resulting in a cup of coffee that is both satisfying and memorable.
Crafted with meticulous attention to detail, Colombia Del Agua Las Guascas represents the artistry and expertise of Katz Coffee. From the careful selection of beans to the precise roasting process, every step is executed to perfection, ensuring a cup of coffee that is full-bodied, aromatic, and irresistibly delicious.
Indulge in the unparalleled quality and distinctiveness of Colombia Del Agua Las Guascas and experience the authentic flavors of Colombia's renowned coffee tradition. Allow yourself to be transported to the captivating landscapes of Cherua, Cienaga with every sip, savoring the enticing notes of pineapple, bubblegum, and dark chocolate.
Coffee Details
Recommended Brew Method
Auto Drip Brew, Conventional Drip, Pour-Over